We are giving away tons of awesome prizes on the Whatcha Want Christmas Giveaway! We will have several great prizes valued at $650! This would be a great time to get some Christmas shopping done!
Hosted by: Jenn's Blah Blah Blog, Dishin With Rebelle, and, Contest for That.
The following blogs have come together and helped make this event possible, a special thanks to:
Pink Ninja Blogger, A Medic's World, Swank Savings, Vero's View, Mukhang Pera, Life: Full of Unexpected Happiness, My ReCe's Pieces, What's Up? – Contests, Giveaways and Everything Nice, Aunt Maggie Rocks, Sister's Saving Cents, The Frugal Free Gal, BlogShopWin, , Simply Shawn & Jenn, and Diva Fabulosa
If you've been entering our monthly Have It Your Way Giveaway you know how it works. This giveaway is better, we have lots of awesome prizes, but before we get started!
We have several fabulous sponsors that I would like to introduce you to!
Jenn's Blah Blah Blog. Not long after Jenn has a decided to get the ball rolling with Pink Ninja her wonderful friends Raegan from Contest for That, and Bobbie from Dishin' with Rebelle joined the fun. Together we make one pretty awesome team, connecting great bloggers with fabulous brands. If you're a brand looking for help with your brands campaign, be sure to check out Pink Ninja Media. You'll find some of the best bloggers in the blogosphere to help you with your blogs campaign.
When it comes to keeping her promise to being green, nobody does it better than Maggies Bags! Maggies Bags uses genuine automotive seat belt webbing that's used to protect you while driving. She uses the high-quality material and turns it into something beautiful that's eco-friendly. She creates the lovely bags you'll find at Maggies Bags. Maggies Bags have been featured on TV, in print and online. You'll never find another handbag as unique and eco-friendly as Maggies Bags.
Maggie Bags has an awesome discount set up… Don't want to wait, will these fabulous bags make an amazing gift for you ore someone you care about? Maggie Bags is offering 25% OFF their Premier Line! It's valid through Dec. 16, 2012! To get the awesome 25% DISCOUNT ENTER CODE WhatChaWant
Ball + Chain allows members to name their prize on jewelry & accessories. Ball + Chain jewelry and accessories are available for purchase every Jewelry + accessory auction held every Tues. at 8pm CST via their Facebook Page. Join them now as they have some pretty awesome plans to expand their website into an amazing online boutique. You're going to want to "Like" their Facebook page to stay up to date with some of the best deals and steals around.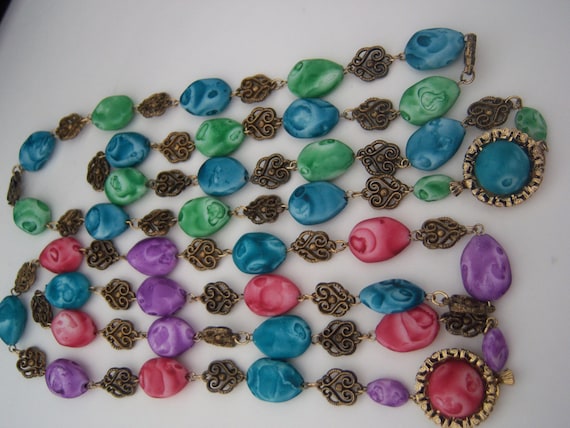 If you're looking for amazing Vintage Jewelry from Circa 1950 to 1980 you're going to love Aloha Vintage Jewels. There's some fabulous, unique, and super original pieces of jewelry at Aloha Vintage Jewels. Jewelry has never been owned or worn. It's been in stock since the 80s. You're going to want to follow Aloha Vintage Jewels via Facebook for their Monthly Giveaways, and fabulous jewelry
Okay so here's how this is going to work, there's several great prizes.
$250 Winner's Choice – Anything you want valued up to $250 (shipping must be included in amount final prize amount of $250)
$200 Winner's Choice to Maggie Bags – Winner chooses any product from Maggie Bags valued up to $200.

$100 Winner's Choice to Maggie Bags – Winner Chooses any product from Maggie Bags valued up to $100.
$50 Winner's Choice to Aloha Vintage Jewels – Winner chooses anything from Aloah Vintage Jewels valued up to $50.

$50 Amazon Gift Card – Winner will have additional choices depending upon where winner lives.
Giveaway will run from 11/10/12 at 12:01am EST till 12/11/2012 at 12:01am EST. Must be 18 or older to enter, and event is open Worldwide. For full rules on giveaway, please visit Jenn's Blah Blah Blog.
To inquire about becoming a sponsor for one of our fun events, sponsor a post, or anything else, please contact Melanie at info@giveawaybandit.com for details. Take a look at our Media Kit to see what Giveaway Bandit has to offer.
Giveaway Bandit contains endorsements for products and services, which means when you click on a link that I recommend, I may receive a commission. Not every link is an affiliate link. Giveaway Bandit received one or more of the products mentioned above for free for evaluation purposes and is an affilate of one or more of the products and banners you will see on this site. Regardless, all opinions expressed are still 100% my own. I am disclosing this in accordance with the Federal Trade Commissions 10 CFR, 255 Guides Concerning the Use of Endorsements and Testimonials In Advertising. Giveaway Bandit Disclosure.
Disclosure: I was not compensated in any way for this event, nor am I responsible for shipping prize to winner.