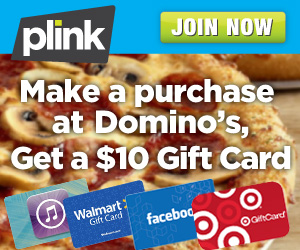 Private offer for new members only! Sign up for Plink today, make any purchase at Domino's by Sunday, 7/7 11:59 EST, and we'll give you 1,000 Plink Points – enough to redeem for a $10 Gift Card of your choice at places like Amazon.com, Target, Walmart, Kohls, Starbucks and more!
Restrictions:
New Plink members only, one sign-up bonus per person
Plink Member must link a credit or debit card and make a purchase at Domino's by Sunday, 7/7 11:59 EST
Purchase is necessary (after the member links a credit/debit card to their Plink account) to qualify for the bonus 1,000 Plink Points by Sunday, 7/7 11:59 EST
Bonus 1,000 Plink Points will be awarded within 7 business days of the transaction posting date.
Domino's purchases that occur on 7/8 or later are not eligible for this promotion.
Since Dominos is a private offer for new members, Dominos will not appear as an offer to place in your Plink Wallet. Rest assure you'll still get your 1,000 Bonus Plink Points.