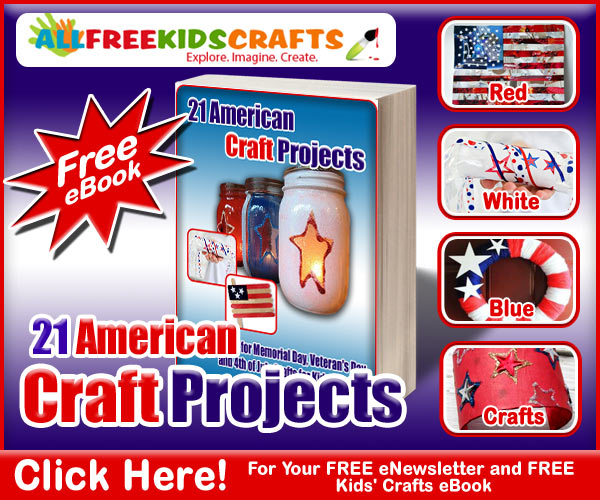 Kids Crafts Patriotic 4th of July FREE eBook
This will be a great FREE eBook to download for fun crafts to do with your kids this 4th of July. Create some fun craft projects before you shoot off your fireworks this year! A great way to keep your kiddos busy! Click the image above to get your FREE Kids' Crafts eBook today!
21 American Craft Projects: Patriotic Crafts for Memorial Day, Veteran's Day, and 4th of July Crafts for Kids features 50 pages of the best patriotic craft activities + Crafty Kid Creations eNewsletter for FREE! Get this brand-new, FREE eBook collection filled with crafts that are sure to make your holiday the best one yet. In our latest eBook, AllFreeKidsCrafts has made sure that your holiday will consist of a little sun, a lot of crafting, and a ton of red, white, and blue. There are crafts that decorate your yard to turn your barbeque from fun to fantastic and others that will keep you busy right up until the fireworks show. The eBook has step-by-step instructions for easy patriotic crafts like Firecracker Foodie Frills (page 42), Patriotic Pom Poms (page 32), Fourth of July Luminaries (page 28), Stars and Stripes Cookie Bites (page 26), Rockets' Red Glare Bracelets (page 17), and lots more.