It's that time for our FabFitFun
Fall 2018 Unboxing! Check out our Facebook live unboxing below:
Here's a list of what was included in our Fall 2018 box: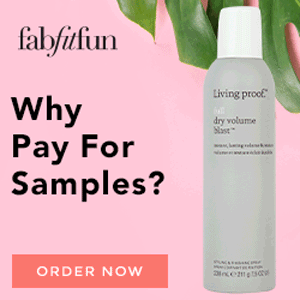 Skin&Co Roma Blue in Capri. This multipurpose shower gel is inspired by the lemon farmers in Capri, Italy, and is deliciously scented with wild sage, lemon, and alpine rose. $22 for 230ml Buy on Amazon
Tip: You can use this as a shower gel or to create a bubble bath.
Catherine Malandrino Umbrella in "Red Floral" or "Black/White Floral". This picture-perfect umbrella is compact enough to fit in a briefcase, purse, or laptop bag. It opens at the push of a button, so you'll never fumble with your umbrella again. $39.99 Buy on Amazon
Tip: To ensure your umbrella dries quickly, don't wrap it up when it's wet!
Alfred French Press Ceramic Stainless Steel Teapot. Trendy LA coffee shop Alfred Coffee is making it so easy to brew the perfect cup o' Joe with this stainless steel coffee press. $22 Buy on Amazon
Tip: Use filtered water at 200 F/93 C.
Grown Alchemist Polishing Facial Exfoliant. Pink Grapefruit & Glucomannan Extract. Gently exfoliate dry skin to reveal a radiant and moisturized complexion. It's formulated with glucomannan from konjac to absorb oils and pink grapefruit to fight free radicals. $67 Buy on Amazon
Tip: Gently massage onto damn skin and rinse off with warm water. It's gentle enough for daily use.
Luna Rice Bar. Take time for yourself and break into a perfectly portioned LUNA Rice Bar. It's made from recognizable ingredients like dates and nuts, making it a nutritious snack. Buy on Amazon

Tip: Keep a bar in your purse to enjoy wherever you go.
Simply Whimsical Tea Towels. This set features two playful gray patterns that are sure to perk up your mood every time you walk into the kitchen. $14.99 Buy on Amazon
Tip: Hang or lay flat to dry after use.
Glamglow Bubblesheet Oxygenating Deep Cleanse Mask (2-pack). Watch it activate into a tingling 3-D bubble experience. The micro bubbles instantly invigorate and detoxify the skin, revealing a glowing, deeply purified complexion. $18 Buy on Amazon
Tip: Place the mask onto damp skin and leave on for approximately three minutes. Once removed, massage the remaining bubbles and rinse.
Crown Brush 6 Piece Brush Set in "Black + Rose Gold" or "Silver". Made of soft, 100% synthetic bristles, this 6 piece brush set has everything you need to perfect any look. Plus, it's packed into a handy travel case. $75 Buy on Amazon
Tip: Mix two parts antibacterial dish soap and one part extra-virgin olive oil for a DIY brush cleaner.
Touch in Sol Metallist Liquid Foil Lipstick duo in "Penny". The duo includes a glittery gloss on one end and a metallic liquid on the other to give you a mesmerizing, Demi-matte finish. $24.99 Buy on Amazon
Tip: Line your lips with the liquid side and wait 30 to 60 sends before filing in the rest for a defined finish.
BeautyBlender. Seamlessly blend cream, powder, and liquid formulas. Use the pointed end on the sides of your nose and under your eyers and the rounded end to buff product in to the rest of your face. $20 Buy on Amazon
Tip: Before using, wet the sponge with water and squeeze out excess liquid.
What's your favorite item from our FabFitFun
Fall 2018 box? Comment below and share with us!