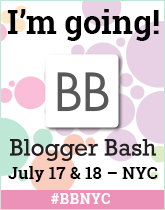 I actually meant to tell everyone about this weeks ago and if you're a blogger you've probably already heard all about it… Blogger Bash NYC coming up in just a few short weeks! As soon as I heard about this event back in April I immediately got a VIP ticket. It is definitely a must attend for anyone that is serious about blogging and working with big-name brands from baby to travel!
They will be offering so many amazing networking opportunities! Besides their popular Sweet Suite event, I am most excited to be able to take my son (yes, the Bandit) to a kid event one of the nights. He will get to check out new products while doing some fun reviews. It should be such an amazing experience for him. He is so excited! His first flight ever was just a few weeks ago when we went to Orlando and he couldn't wait to get back in the air! So he is very excited to be flying to New York City next!
My mom and sister will be going to entertain my son while I am at the other events. My sister lived in Manhattan for several years and plans to move back very soon so it will be nice knowing she can hail us farm folk a cab or show us how to get on the subway.
Be sure you check out Blogger Bash and get your ticket now! I hear they are nearly sold out! DO NO MISS OUT on this amazing opportunity for you and your blog!
Comment below if you are attending so hopefully we can meet up!